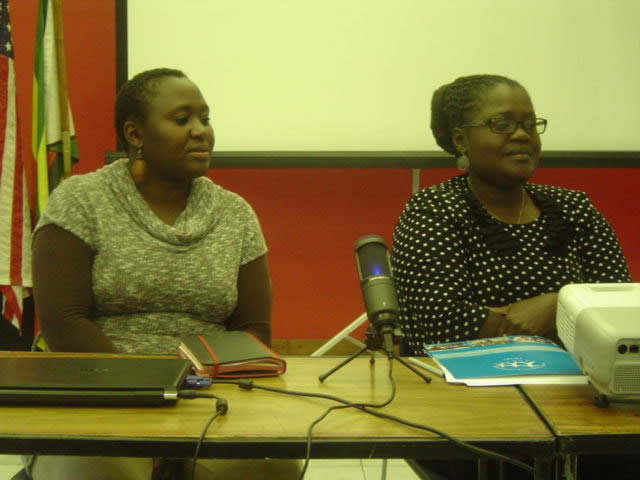 The difficulties experienced by rural women include water and sanitation challenges. It is therefore with much delight that I note that rural women were the main talk at this year's United Nations, Commission on the Status of Women (CSW). This is a platform created by the United Nations and is held annually at the UN Headquarters. According to the UN, the Commission on the Status of Women (CSW) is the principal global policy making body dedicated exclusively to gender equality and advancement of women. In this regard, each year member states gather at UN Headquarters to create various platforms to enable the advancement of women rights through discussions and exhibits among other means of communication. This year two ZUSAA Alumni members, Grace Chirenje and Lucy Mazingi where sponsored by the US Embassy in Zimbabwe to attend this annual event. Grace is the Director of Zimbabwe Young Women's Network for Peace Building, and Lucy Mazingi is a director at the Youth Empowerment and Transformation Trust thus they participated as members of the civil society in Zimbabwe.
This year's theme of CSW focused of rural women and it was interpreted as, "The empowerment of rural women and their role in poverty and hunger eradication, development and current challenges". The theme was in full support of MDG number 3 that states the promotion of gender equality and the empowerment of women.  Rural women are believed to be the medium for economic progression in the world.  On justifying the importance of the theme the UN clearly stated that, "Rural women's economic empowerment is key. If rural women had equal access to productive resources, agricultural yields would rise and there would be 100 million to 150 million fewer hungry people."
This week's Food for Thought session at the US Embassy Public Affairs Section gave a platform for Grace and Lucy to give feedback on their experiences at this year's CSW. Both the participants alluded that it was a learning curve for them as they got to interact with government representatives and civic society members from different parts of the world. Lucy Mazingi supported this year's CSW theme as she said, "In agriculture, rural women are economic agents that can help reduce poverty thus they require empowerment". Both women work with rural women and girls and empowering them is one of their mandates.
Grace Chirenje highlighted that rural women are no different to urban women as they face the same issues. Also the challenges and issues being faced by women in developing countries and the developed world are similar. She did point out that some countries in the developed world referred to rural women as 'indigenous women', but there was no difference in the aspects regarding these women, it was just a matter of different expression. Asked on why they did not take any rural women with them to the CSW, Grace replied saying that the US Embassy on the basis of being ZUSAA members sponsored them but it would have been ideal to have physical representation of rural women from Zimbabwe. The government representatives at CSW did not bring rural women with them either instead they showcased a video of rural women in Zimbabwe from Binga. Other countries including our neighbours South Africa managed to bring rural women with them. With this in mind Grace Chirenje and Lucy Mazingi highlighted the need for close networking and collaboration between government ministries and civil society.
One attendee at Foord for Thought urged women activists not to waver in their fight for women's rights especially when it comes to holding the government accountable in implementing policies they have signed and promised to adhere to. She also highlighted that the early fighters for women rights fought not only for themselves but for us too.
To conclude, the call for boys and men to be engaged in gender equality and women rights issues was brought up. Engaging men in the conversation for women's rights not only helps enlighten them about gender issues but gives them a platform to air their views too. Removing them from this picture is not going to yield results. Youth participation was also considered to be vital and it was resolved to include youths in delegations representing the country at such high profile and important events.