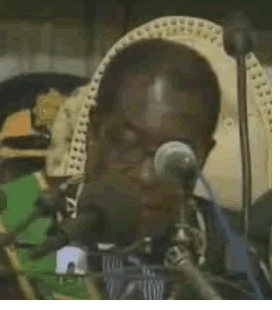 When Robert Mugabe opened Parliament last month, he was jeered and heckled by the MDC's Members of Parliament. Some thought this was a positive sign – an act of defiance on the part of a long-suffering opposition party. A few people, however, thought the MDC was stooping too low in a childish act of name calling.
The exchange was shown once on national television before the state broadcaster yanked that part of the footage. But CNN got a copy of it, and the clip has since been posted online. In our email newsletter yesterday, we sent people the link to the footage, and asked them for their feedback.
So far, the responses have all been positive, for example:
There is nothing wrong with that kind of behaviour. Mugabe after stealing the vote several times, beating and murdering his own people, how can he expect people to respect him. People have been oppressed for very long and that is the only platform they had to express sentiments from their constituencies.

—

Fantastic. They reflected the exact sentiment of the people they represent. That is their mandate is it not?

—

Jeering and heckling in Parliament is the stuff of lively democratic debate the world over and a test of the temerity, wit and strength of the representatives. And puhleese, they have the arrogance to puff up and bluster about the heckling whilst our equally important honorable Members of Parliament are being hauled off and clapped in irons and being subjected to the degradation of our ever so proud government's filthy prison cells. Pride comes before the fall. The critics of the heckling are also past masters of equally derrogatory behaviour in Parliament – they must now step up and get ready for some of their own medicine and prove their worthiness to the people of Zimbabwe – or are they all a bunch of wimps?
Watch the footage here or here and email info [at] kubatana [dot] org [dot] zw to let us know what you think.