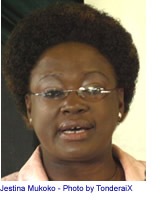 Zimbabwean human rights activist Jestina Mukoko was abducted from her home in Norton, outside Harare, around 5am on Wednesday 3 December. Reports indicate that a group of at least 12 men in two unmarked vehicles came to her house. She was taken by force still barefoot and in her pyjamas. More than 24 hours later, there is still no sign of Mukoko, nor any indication of her whereabouts or who might have abducted her.
Amnesty International issued an alert yesterday, demanding that Zimbabwean authorities guarantee Mukoko's safety. Mukoko is the director of the Zimbabwe Peace Project (ZPP), a local human rights organisation that monitors and documents human rights violations.
Phone the Norton Police station and demand that they investigate Jestina's disappearance: +263 (0)62 2120. Be persistent! It can be hard to get through.