According to today's Herald, the Registrar General's office now enables one to access the passport application form online, fill it in, print it out, bring it to a passport office – and get an SMS when it's ready for collection.
Today, our attempts to access the Registrar General's website have been intermittently successful – Suggesting that perhaps they're getting more hits with the launch of this service than their server has capacity for. But we were able to get to the online form, which looks like this: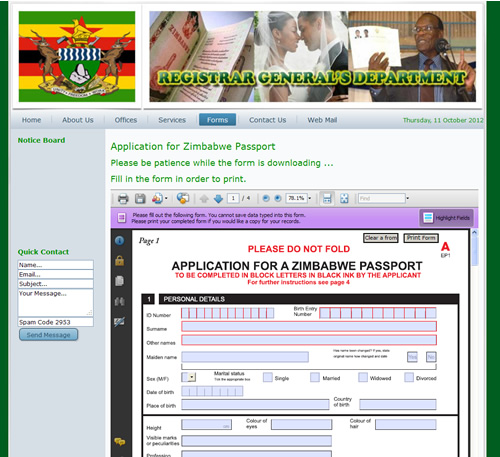 I did think to myself – "But I'm not Patience. Can't I be Amanda whilst the form is downloading?" but other than that, I can't complain.
I could fill in the form on their site, print it locally, and could take it to the passport office and submit it in person if I wanted to apply for a passport.
According to The Herald, the fee for using the online form will be $33 – less than the standard $50 charge, and you're spared the step of having to queue up just to get the form. So all of that certainly sounds more convenient than the current system.
So, will it really work? Who will be the first to try it? If you do, let us know!