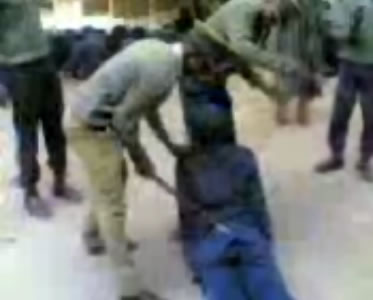 This shocking 2-minute video shows police officers beating the new recruits at a Zimbabwe police depot.
One by one, recruits come up to a small group of policemen, lie in a push-up type position and are beaten on the buttocks with sticks. They are then dragged off to lie down on their stomachs off to the side, or are kicked out of the way. These are not beatings of rage or annoyance. They don't even look like they are punishment for a selected "non-performing" police recruit. Rather, they are orderly and methodological. It's only when a recruit resists, or acts too "soft" that the beating lasts longer. The recruits know the drill and get into position. The officers deliver the blows and move onto the next victim. In the video you can see the recruits who have already been beaten – and the queue of others waiting for their turn.
The video is reminiscent of the images that came out of Abu Ghraib– the policemen laugh, threaten and insult the recruits with cries of "kill him" and "beat him." In one frame one officer takes a picture of the beatings with his camera phone. But in a way it is all the more disturbing that the police are beating their own co-workers.
What are the implications for policing in Zimbabwe if this is how new recruits are "hazed" by their superiors? Is it any wonder then that the police are quick to respond to civic demonstrations with violence, and that there are frequent reports of detainees being mistreated by the police? What are the long term psychological implications if this is how police routinely deal with their own? If your superior beats you for being new on the job, what more might he (and in the video they are all men) do if he thinks you have disobeyed him?
The Ministry of Home Affairs, which oversees the Zimbabwe Republic Police, is now co-held by Zanu PF's Khembo Mohadi and the MDC's Giles Mutsekwa. Email the Ministry on moha@gvt.co.zw and the MDC on mdcnewsbrief@gmail.com and demand that they investigate these beatings and change the way the police force is run.