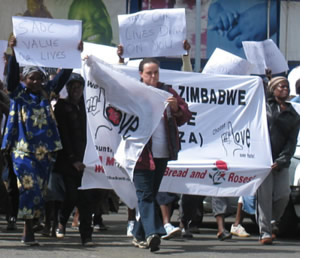 This morning four of us piled into a car and went to observe a Women of Zimbabwe Arise (WOZA) gathering in downtown Harare. They wanted to deliver a petition to the Zambian Embassy requesting SADC to get more energetically involved in helping to solve the crisis in Zimbabwe. I thought that WOZA's tactic of getting people to witness their event in order to provide factual and independent accounts is a good one. WOZA initiated their march at the UNDP building and they had reached Julius Nyerere Way when a bakkie full of riot police arrived to "put them in order". What interested me was the behaviour of the police; they didn't seem terribly excited or keen on beating the WOZA women. One of the women taken away was Jenni Williams, WOZA's tireless co-ordinator.
I've been reading various news reports and articles by Zimbabweans that emphasise the need for Zimbabweans to go and vote in huge numbers in the presidential run-off. Of course a very high turnout of opposition voters will make it more difficult for Mugabe to steal the election, but steal it he will. In which case I wonder if the Movement for Democratic Change (MDC) has a post election strategy in place this time. We are likely to see a re-run of the last election when the MDC claimed victory but failed to convert their win. As I've written before, the liberation of Zimbabwe will only happen when Zimbabweans and the leadership of the MDC realise that we have to do more than vote and hope that the international community will come to our rescue.
Working out a post election strategy is not easy in a dictatorship, but, whether we like it or not, we have to.
Public actions like WOZA's today give me some hope. But their actions need to be multiplied and replicated all over Harare and other parts of Zimbabwe to create sustained pressure on the illegitimate Mugabe regime.
At this time the MDC should not be putting their efforts into printing yet another batch of election posters, or fliers. They should be:
- forming resistance cells and collaborating with a variety of pressure groups like WOZA and the NCA to create rolling actions when the election is stolen
- lobbying key business leaders to shut down the country once the election is stolen: banks, fuel providers, taxi operators, teachers, supermarket owners
- bringing the armed forces and police onto the side of justice
It is largely agreed that the majority of Zimbabweans (including members of Zanu PF) and personnel within the armed forces and the police want Mugabe to go. It is a minority that want him in power to further their own corrupt and power hungry agendas. Therefore we need to stretch the regime to bursting point, and burst it will. But only if we refuse to be complicit in our own oppression.
Some Zimbabweans, as well as the MDC leadership have said that they won't organise protest marches because the army will fire upon civilians. This is already happening in the rural areas and the high density areas where people have been murdered, assaulted and made homeless. If the MDC and Zimbabweans continue to use this excuse for inaction, then it isn't Mugabe who is oppressing us, it is ourselves.
Power itself is not derived solely through violence. Governmental power is frequently violent in nature, but it is primarily maintained through oppression and tacit compliance of the majority of the governed. Since silence and passivity is interpreted by the government as consent, any significant withdrawal of compliance will restrict or challenge governmental control. Struggle and conflict are often necessary to correct injustice. People's apathy in the face of injustice implicates them in the moral responsibility for that injustice. (For more, click here)
The liberation of Zimbabwe will be achieved because of a variety of interventions, including:
- creative and courageous leadership in the opposition
- creative and courageous leadership in civil society organisations
- regional pressure
- international pressure
- internal pressure
- the withdrawal of co-operation by ordinary citizens
- the non-cooperation of the business community
- the withdrawal of support for Mugabe by the police and the armed forces
And I believe the most important of these is sustained internal pressure.