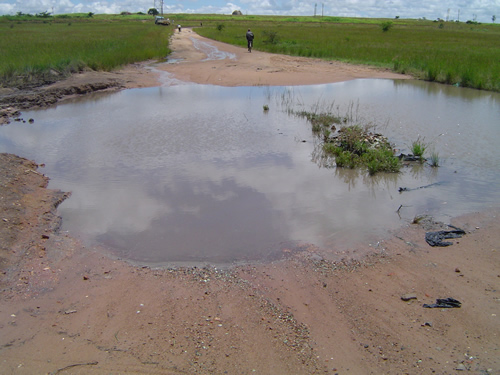 A wise woman my mum, has always told me that short cuts have short falls. It is easier do things the long way and not skip a process than to go back to stuff you should have done long back she would say.
I have come to believe her because of events on Wednesday when my colleague and I at Kubatana were doing our monthly delivery of the vendor wrapping sheets. This is an exceptional one of a kind in a realm of its own project in Zimbabwe I must say. The project seeks to give vendors a space to be heard and also be given information on issues that concern the everyday person on the ground.
We decided to take a short cut that was to lead us straight to Epworth in no amount of time. And there it was. This big pothole turned into a little dam in the middle of the road. Turning back was no option because before the dam site the car we were in almost got stuck in the mud. In fact we had left a couple of men trying frantically and in vain to lift a truck that had been swallowed by the mud. So we decided to move forward and brave it out. Thanks to our lucky stars we managed to get out of that little dam alive and kicking.
I would like to say to my mum I am absolutely positive that when you used to say short cuts don't pay off, your words got in with the ear and left with the other. I guess experience is the best teacher. So I would like to repeat the words of a wise woman and say in this case short cuts have short falls that have potholes turned into little dams.
Anyone thinking of using that road take it from me shortcuts have short falls and I have evidence.