When I heard that I would return to Tunis this year I was delighted. I love their pastries, coffee and carpets! And there's a lot more to like – dried fruits, nuts, fresh juices … You can see where my interests lie.
My trip to the giant Tunis medina began with a short walk down to the Metro accompanied by a big-hearted, energetic young Tunisian woman called Miriam who'd been attending our conference and happened to be on her way to a meeting near the the medina. The streets and buildings en route were grey and nondescript – the pavements narrow and uneven – not the most attractive part of Tunis. Miriam bought the tickets which cost 500 millimes each (about 30 US cents each) for our short journey and the two of us squeezed into the above ground tram that had just pulled in. Apparently the press of people around us were lunchtime commuters. Miriam said that the trams got fuller still at the start and end of each day which means they must get crammed!
We jumped out at the Metro stop at Place de Barcelone and started to make our way towards the medina. We hadn't gone far when we found the sidewalk blocked by new rolls of razor wire running alongside the tram lines. This unsightly form of security is used in a number of places in the city to protect strategic buildings and more of it must have been added following the riots in early February 2013. Along the main boulevard you'll also see the odd tank here and there – a further sign that Tunisia's democracy is still very new.
The drab grey of the back streets gave way to the trimmed and manicured trees of the cafe-lined boulevard that leads up towards the medina. Progress was slow as the sidewalks were congested with formal cafes and informal street vendors selling food and cheap clothes and trinkets. Having missed lunch we took the opportunity to stop at a vendor and buy a favourite snack of Miriam's – delicious fresh olive, onion and garlic bread rolls that went down very well.
We chatted a bit and then asked a few folk for advice about where to buy carpets. It seemed the place to head for was the Government Shop which is located in what used to be the King's Palace. I was in luck, I was told, because today was the last day of the Berber carpet exhibition, an opportunity to buy carpets at wholesale prices (if you're a large buyer I presume). The medina covers many square kilometres, so there are a maze of alleys in which to lose your bearings amongst the small stalls, plenty of them replicas of each other. And it's very slow going as the alleys are narrow, the shoppers and sellers many and no one seems to be in a rush to go anywhere.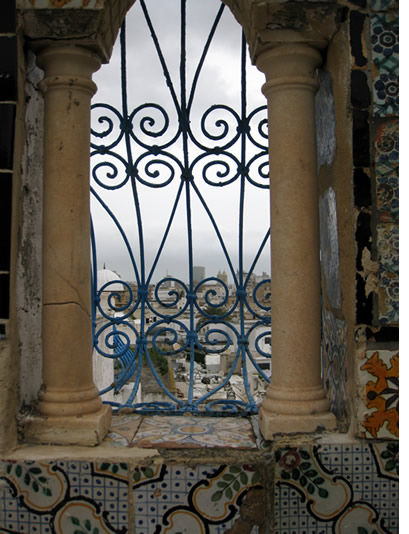 Since my time was short I set out as fast as I could along the fringes of the market hoping I'd recognise the Government Shop at some point. I hadn't gone far when I'd already had to stop and puzzle over which alley to take next. To my surprise a man called out from behind me and introduced himself as a security guard from the hotel at which I was staying. Talk about a small world! His father had a small perfume shop near the Government Shop so he said he'd walk me up there. We took a number of twists and turns that I doubt I'd have worked out for myself, so it was a happy coincidence that we'd bumped into each other and I could make it to the shop in quick time.
Before getting down to the business of carpet buying I was given a quick tour of the old building. First to the rooftop which boasts a great view of the city. I was assured I could see as far as Zimbabwe on a good day! The walls up there are covered in beautiful old tiles – supposedly the original tiles that decorated the King's summer palace. Next was the king's original double bed – a grand, gilded affair big enough to sleep 5 comfortably (he had 4 wives!). And then finally to the large rooms stocked with thousands of piled and rolled and hung carpets.
I sat on a carpeted ledge and sipped on sweet mint tea as the salesman ran through the main types of Tunisian carpets and the pile in front of me grew higher and higher. His 2 helpers, a small old man and a tall younger man, fetched and unfurled and rolled up carpet after carpet, sometimes standing next to each other to hold up carpets for comparison. So much choice! Which type to buy, which colour to choose, which size to go for. I eventually settled on a nice-sized Berber carpet and a tiny silk carpet, both of which folded up into neat parcels that would fit into my suitcase. I have a feeling I paid way over the top for the carpets – I should have tried to do a bit more homework before I went shopping – but the feeling of being outsmarted was compensated for by having really enjoyed the spectacle and the process.
The security guard from the hotel was still there when I finished at the carpet shop, determined to make sure I visited his father's shop which was indeed very nearby. His Dad sprang into action, dotting my wrists with different scents. Using a lighter to assure me of its oil rather than alcohol base. Eventually steamrolling me into buying a couple of small roll-on bottles. In the end I think the medina shopped me rather than vice versa!