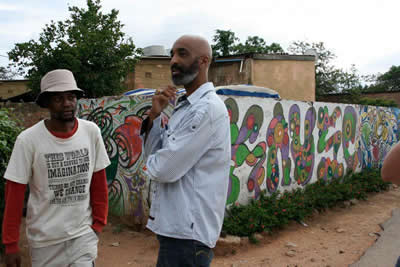 In picture: Maxx Moses with local artist Enock aka "Just Kause" in Makokoba, Bulawayo on Monday.
Bulawayo, November 29, 2011: Graffiti artist, Maxx Moses, arrived in Bulawayo on Sunday as part of a U.S. Embassy program to raise awareness about HIV/AIDS through street art.  Moses, who calls himself a "concrete alchemist," will spend a week in Zimbabwe's second largest city working with local artists to create two murals on the sides of major buildings.
"I am excited to be here. Our job as artists is to make people think deeper, feel deeper," says New York-based Moses, who goes by the tag Pose2.  Moses' artwork has been described by renowned art critic Alexander Salazar as promoting "an environment of longevity, growth, wholeness, and spiritual well-being." Moses fuses 'wild style' and fine art in his work.  He is a well-known innovator in the graffiti and street art industry in the United States, whose work suits virtually any surface, flat or 3D, of any size.
The visiting artist and his team of local artists begins spray-painting the walls of Madlodlo Bar in Makokoba and part of the exterior of the National Gallery in Bulawayo today. The murals will be unveiled at a ceremony on December 1st at 2:30 pm featuring Ambassador Charles Ray, Bulawayo Deputy Mayor Amen Mpofu, and City Council officials.  The sites will also host mobile testing units for the public.
"Worldwide, AIDS activists are focused on creating an AIDS-free generation. In order to do this, we need to use every possible tool to get prevention messages across to young and old alike. Maxx's work is the perfect medium to do this – it's innovative, engaging, and certainly eye-catching," says Michael Brooke, Public Diplomacy Officer at the U.S. Embassy.
Since 2000, the United States government has invested over $245 million in Zimbabwe's fight against HIV/AIDS.  In 2012, the U.S. will contribute an estimated $60 million to the national HIV/AIDS response in Zimbabwe through the U.S. President's Emergency Plan for AIDS Relief (PEPFAR), including support for treatment of 80,000 people and interventions to prevent mother-to-child transmission of HIV for approximately 40,000 women living with HIV/AIDS.
Issued by the U.S. Embassy Public Affairs Section.