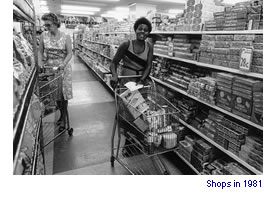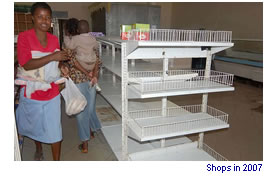 I had a look at the SW Radio Africa website, Spot the Difference, and I hardly knew where to begin.
In the picture of the shop in 1981, the shelves are stocked, the shoppers' trolleys are full, the electricity is on inside the shop, and best of all, the prices? 28 cents.
Today? Barren shelves, empty trolleys, no power, and prices heading towards hundreds of thousands and millions of dollars, not fractions of them. When Reserve Bank Governor Gideon Gono delivered his Mid-Year Monetary Policy Review on October 1st he said, among other things:
It is against this background that I can say without fear of retraction or of being misquoted that it will not be very long before we see visible supply improvements on the ground. We should, by the end of this month [October], see the return of mazoe [orange syrup], soft drinks, cooking oil, soap, milk, bread, sugar and animal feeds on the shelves at affordable [cost to consumers], but economically viable prices to the suppliers.
With one week to go in the month, Gono's promises of affordable, abundant commodities in our shops are looking increasingly unlikely. To be able to nip out to the shops and buy a packet of biscuits for 28 cents, I think I could stomach the polyester dresses and the over sized glasses. Now if only I had enough ZESA to recharge the battery in my time travel machine . . .