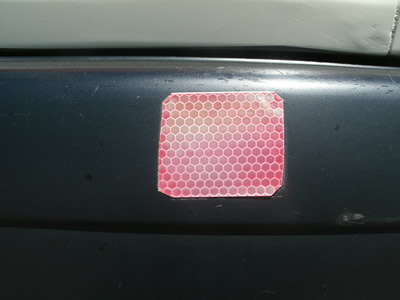 I'm beginning to think that my car is a magnet for attracting spot fine roadblocks. I was stopped again at a roadblock this morning. From previous experience I was semi prepared for another sit-in.
This morning's police officer was nicer, but used the same threats. He asked for my driver's license and then inspected my car. Finding a faded rear reflector (pictured above) the officer told me I would have to pay a $10 spot fine.
I told him I had no money and could not pay there and then, but was happy to be given a ticket to pay later.
The officer told me that they would take my car to the nearest VID, insisted that the spot fine had to be paid immediately, and told me to call someone. Another officer even came by and told me to call someone to bring the money for the fine.
I refused and told him again to give me a ticket. Finally, the officer took down my car's license plate number and my name, and told me to replace my reflector.
Later, I spoke with Superintendent Andrew Phiri at Zimbabwe Republic Police General Headquarters who clarified what is supposed to happen when you are stopped at a roadblock and asked to pay a fine.
When you have been stopped by the police at a roadblock and you are found to be without a driver's license, proper registration or any other fineable offense you have two options:
The first is to pay the spot fine the second is to be given a ticket.
If you pay the spot fine you are to be given a green form, which is your receipt. The green form is an admission of guilt form no: Z69J.
If you disagree or refuse to pay the fine, you may appear in court to contest.  The police at the roadblock should give you a white form no: 265. The form will give you the court date on which you are to appear in court. The court date is set for between 7 and 14 days after the date of issue of the form. You may also pay the fine on or before this date.
If you do not have your driver's license you should be issued a 'production form' and you have seven days to take your driver's license to the nearest police station, where upon the ticket will be cancelled.
Police at roadblocks may use their discretion in issuing tickets and giving cautions.
If you are threatened with having your car impounded or taken to VID this is a scare tactic to make you pay the fine. The police are not legally enabled to do so.