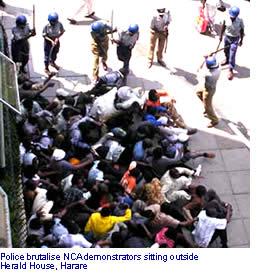 Not that police brutality is ever acceptable. But treatment of National Constitutional Assembly (NCA) activists this week challenge hopes that talks between Zanu PF and the MDC, and the two parties' recent agreements on Constitutional Amendment 18, mean a softening in the government's position on freedom of expression. The state may be planning on revising repressive legislation such as and AIPPA, but in the meantime, freely expressing dissent remains as challenging as ever.
According to the NCA, over 400 people participated in a peaceful march in Harare against the 18th Constitutional Amendment. The demonstration was interrupted by the police, and those demonstrators who did not run away in time were rounded up by the police and forced to sit outside Herald House while the police took turns beating them. The photo on the left gives an evocative image of police's heavy-handed treatment of these demonstrators, even once they were seated and clearly not posing any physical or immediate threat to anyone. You can see more on the SW Radio Africa website.
The NCA reported that 34 people sustained serious injuries from these beatings, and were taken to hospital for treatment.
The dangerous acts these activists committed which caused the police to lash out at them like this? Daring to hold a demonstration and carrying placards reading things like: "No to Amendment 18," or "No to treachery."