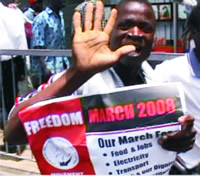 Despite a lengthy back and forth with the courts, and harassment by the police, the Movement for Democratic Change went ahead with their freedom march on January 23, 2008.
In this clip, recorded by a journalist on the scene, MDC members run from tear gas which was thrown by the police to disrupt their gathering. They quickly regroup, and toyi toyi their way through Harare's streets, waving their posters and singing their protests of Zanu PF's governance.
Another journalist was not so lucky – an Al Jazeera cameraman was stopped by the police and prevented from filming, despite the fact that his network is the only foreign television station tolerated by the Zimbabwe regime.
With our "mother of all polls" now scheduled for March 29, 2008, prospects of a free and fair election are non-existent. In these conditions, some are advocating a stronger stance from the MDC, urging them to develop a genuine programme of democratic resistance. Others are more sceptical of MDC protests.
Leave a comment or send us an email on info [@] kubatana [dot] org [dot] zw and share your thoughts. What do you think the opposition – or Zimbabweans more generally – can do to snatch some kind of satisfactory result from the jaws of what is certain to be another rigged election?