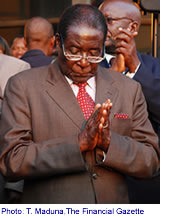 Today the electricity at my cottage went just after 5am. I was about to wake up and do my ironing. That was the first challenge.
Challenge number two was knocking at my landlord's door and kindly asking him to switch on the borehole to allow me to fill up the numerous water containers in my small kitchen. I have not had running water for the past seven days and the borehole has done very little to help because there is no ZESA and when ZESA comes I'm not usually at home to do the boring chore of filling up buckets and empty Mazoe containers. Yes, it's simply not funny anymore.
Yesterday was a big day for me. I got my first shot of President Robert Mugabe at ZANU PF Headquarters. I was allowed inside thanks to my press accreditation card from the Media Information Committee (MIC). The wait was over five hours in the blazing sun as I discussed how to get the best photo of Mugabe with my colleagues from other media houses. However the five hours were not dull at all. We were entertained by the War Veterans who had assembled as early as 8am for their solidarity march. They chanted their revolutionary songs, the women danced, while most of the men seemed tired from toyi toying in town earlier in the day where they marched 'peacefully' with a police escort. Imagine that happening to the NCA, MDC or the lawyers.
The president finally arrived. He was smart. Dressed in a brown suit, striped shirt and matching tie. He got thunderous applause from his supporters. In his eloquent English and Shona he thanked the war vets for their support and how they should prepare for the coming elections. Then he mentioned that he was not going anywhere and that people should forget about an exit strategy. I looked at him and gently smiled as he said, "here I was born, here I have lived.." and we all silently joined him as he said, "..and here I shall die".
I wish it was funny but it's not any more!