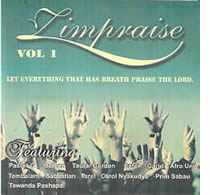 What do you do when you attend a gospel music show and are inspired? Don't you put your hands up in the air and shout, "Amen, praise the lord"? Well, I would.
Apparently some people in our government think otherwise. The Media and Information Commission (MIC) whose business it is to accredit newspapers and journalists think some gospel music producers have taken the gospel too far. According to The Standard newspaper, Geoffrey Chaparadza who was involved in the production of the album was summoned by the MIC to explain why he had produced an "opposition music album".
For those who don't know, Zimbabwe's main opposition party, the Movement for Democratic Change (MDC) uses the open hand as its symbol.
So when the authorities saw the album cover titled, "Zim-Praise Volume 1″ they began to panic because the album has people with open palms praising the lord.
Such actions by the authorities are worrying. Do we now have to praise the lord with clenched fists? By so doing someone will also question why we are declaring our support for the ruling party ZANU PF because their party supporters raise clenched fists whenever they chant their slogans.
Those interested in getting a copy of the album will have to wait a while. The album is not yet stocked in any music shop for very obvious reasons. It's not clear if the producers will give in to the authorities and re-design the album cover.
However, I must say the 15 new songs on the album are uplifting. So please forgive me when I raise my hands and praise the lord as I listen to Bethen Pasinawake's Tinokurumbidzai (We Worship You Lord).