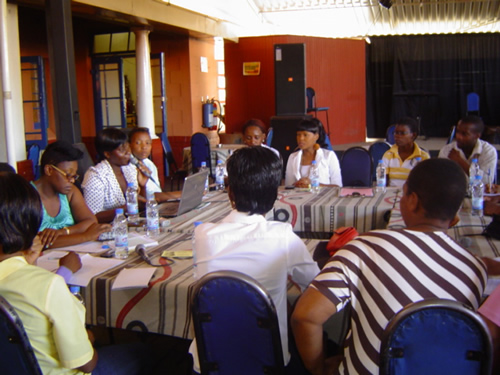 16 Days of Activism Against Gender Violence is a global event dedicated to end gender-based violence. As part of the commemorations to mark this event in Zimbabwe on Friday 30 November 2012 Pamberi Trust together with Media Alliance held a media round table discussion at The Book Café. The theme of the discussion was "The Media Against Gender-Based Violence" and it took the form of an open discussion between members of the public, media practitioners and civil society representatives in trying to unpack the role of the media in covering gender based violence (GBV) in the country.
It was noted that media is doing very little in playing its role as a mirror of society when reporting on gender-based violence. In a presentation by Mrs. Veremu a Mass Communications lecturer at Polytechnic, it was noted that media plays a critical role in shaping the discourse on gender based violence through awareness raising, setting the agenda and helping to change attitudes. Mrs. Veremu highlighted that media should play a leading role in dispelling the stigma centered around gender-based violence so that it becomes an encompassing human rights issue, including both men and boys.
In a study carried out by Gender Links in 2010 it was found that regardless of the high prevalence of gender based violence in Zimbabwe only 3 percent of the stories in the media was on gender based violence. The same study found out that television coverage of gender violence was only 1 percent. Media was blamed for sensationalizing articles on gender-based violence only to push sales foregoing the seriousness the issue deserves.
Media should not relegate gender-based violence to the periphery of social discourse.
In helping set the agenda, media has a responsibly in influencing the discourse concerning gender based violence and media coverage should happen all year round, not just during the 16 Days Campaign.
Media houses and organizations that work on gender issues were urged not only to rely on old media but also to embrace new technology like social media so that they reach out to a wide audience.