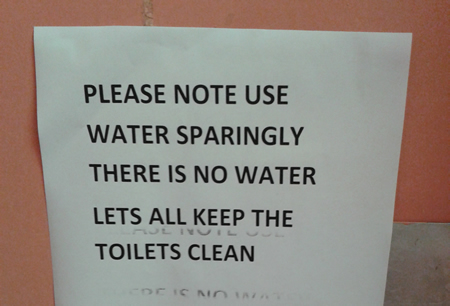 In the office block where we work, there are about 30 offices, each with maybe 4 employees. So that's about 120 workers, plus their various visitors, clients and passers through at the café and hair salon downstairs.
For the past ten days, there has not been municipal water. The borehole which the owners sunk for the building last year is dry. For a few days, the pump to the water tanks was broken. The building manager ordered a water delivery which lasted for about three days. Meanwhile, he's struggling to get another delivery, and the water companies he phones tells him there is a backlog. No one has municipal water, and everyone is trying to order some.
Where does the bulk water we order come from? Some comes from legitimate sources, but some is pumped out of residential boreholes and city water recharge sources, further compromising the city's water supply.
Like the recent Human Rights Watch video and report say – Never mind the quality of Harare's water, even the supply is in crisis. Signs like this one at the toilet in our office block are the order of the day. We know there isn't any water. We know to use it sparingly. But what we don't know is when that's going to change, and how.