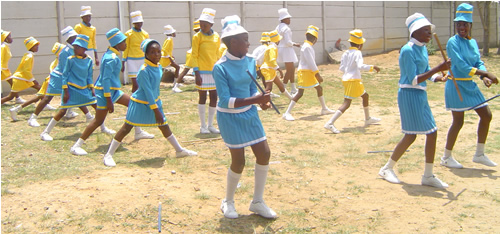 On Thursday 24th November, Chiedza Childcare Center held celebrations for their 10th anniversary of service, at their Ardbennie premises. Brightly dressed drum majorettes, who danced in celebration, and aptly set the mood for the festivities, greeted attendees.
Co-founder David Sheehan gave the welcoming remarks, whilst caregivers, a representative of the children, a representative from the Australian Embassy and representatives of the Qantas cabin crew (who have supported the organization from its conception), made speeches.
The caregiver's choir and the children, through drama, poetry and traditional dance, provided entertainment during the celebrations.
Certificates of appreciation were handed out to members of the original board of directors, and to the many volunteers who have contributed to the many programmes Chiedza conduct, helping to improve the situation of the children. The anniversary was then concluded with a special tree-planting ceremony. Various staff members gave visitors a tour around the center's buildings, and showcased some of the fund-raising projects the children are involved in.