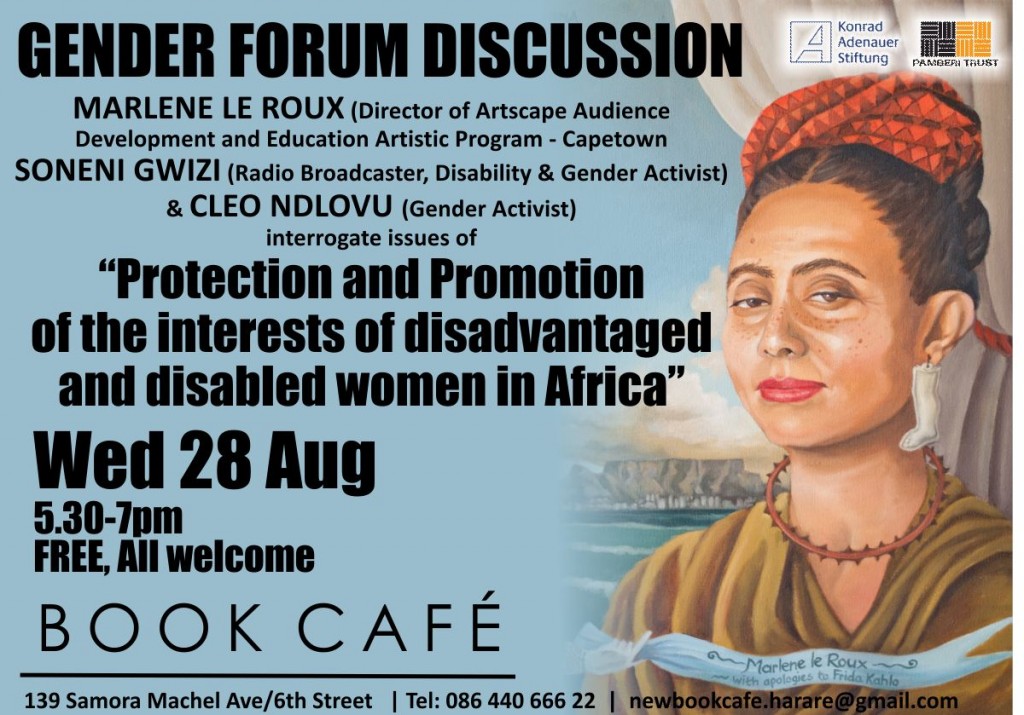 Protection and promotion of the interests of disadvantaged and disabled women in Africa
Date: Wed 28 Aug, 2013
Time: 5.30 – 7pm
Venue: Book Café, 139 Samora Machel Ave/6th Street
The rapid integration of world economy has transformed the world at large and its women. However, it has ushered in its way many changes of immense significance and fresh opportunities. Though a great deal of progress has been done to protect and promote the interests of disadvantaged and disabled women, more efforts are required to create a sense of awareness and confidence to enable them to become active participants in the process of social transformation and regeneration. WHERE ARE WE NOW IN AFRICA?
Marlene Le Roux, Director of Artscape Audience Development and Education Artistic Program (Cape Town) is joined by Soneni Gwizi (Radio Broadcaster, Gender & Disability Activist) together with Cleopatra Ndlovu (Gender Activist) as they interrogate issues that affect disabled women and how much advocacy is being done vis-a-vis what needs to be done in regards to the protection and promotion of the interests of disadvantaged and disabled women in Africa.
In November 2009, Harare arts development organization, Pamberi Trust, created a platform for the discussion of gender and women's issues at Book Café in Harare.  Aimed at contributing to initiatives of advancing gender equality and promoting women's rights in Zimbabwe, the Book Café Gender Forum has become a popular space for tackling issues of concern guided by audience responses.
The Book Cafe Gender Forum is a monthly discussion, targeting human rights activists, members of civic society, and members of the general public.  This month's discussion is hosted by the Book Café Gender Forum in partnership with the Konrad Adenauer Foundation.
The discussion is FREE and all are welcome.