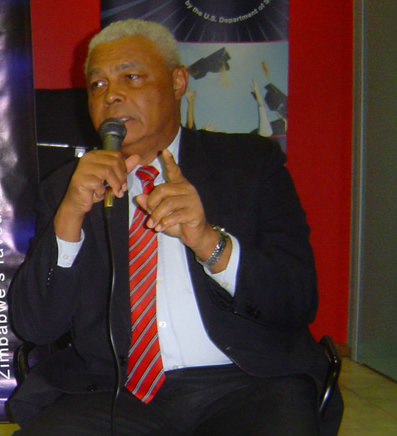 The term of office for the United States of America (USA) Ambassador to Zimbabwe comes to an end this year. Ambassador Charles Ray took some time to reflect on his three-year term of office in Zimbabwe at a US Public Section function organized by DefZee yesterday. Ambassador Ray began his term of office in 2009 when he presented his credentials to President Robert Mugabe.  Prior to his current Zimbabwe mission Ambassador Ray served in the US army and retired with rank of Major. He held several key positions including serving as US Ambassador to Cambodia from 2002 to 2005 and Deputy Chief of Mission at the US Embassy in Freetown, Sierra Leon.
In a brief speech Ambassador Ray challenged Zimbabwean youths not to restrict their learning to classrooms and textbooks but by reading widely. He also encouraged the youth not to fear failure. In his sentiments the Ambassador said taking initiatives to address some of the challenges affecting people in the community and not to wait for the government or other people to do it for them could create a better community in Zimbabwe.
In his three-year term in Zimbabwe the Ambassador highlighted how divisions have contributed to the challenges affecting the development of the country. Chief among them, the divisions in the society along tribal lines and those who view themselves as superior because they took part in the liberation war against those who didn't, and the "born frees" against the older generation. Ambassador Ray said the best way for young people to participate in politics is by building better economic securities and this will enable youths not to be politicians but to be the power behind politicians. Responding to a question from the public on foreign trade the Ambassador concurred that every country goes into a business relationship with another for its self-benefit so there is need to exercise extreme caution in how a country does its business transactions. On how the Black community in America view President Obama, Ambassador Charles Ray said the once a president is elected into office in America he is guided by the constitution and he will be serving the American people not a particular section of the people in the country.
Commenting on the relationship between USA and Zimbabwe, Ambassador Ray pointed out that room for dialogue has been created and the two countries can now engage in discussions on how to find ways of making life better for average Zimbabweans.