Listen to audio interview with Raymond Majongwe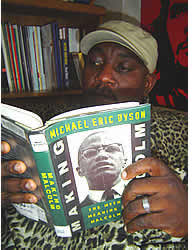 On December 16 2005, outspoken Zimbabwean trade unionist and musician Raymond Majongwe, made his way back to Zimbabwe from Nigeria where he had been attending the 14th ICASA AIDS conference. Little did he know what the government had in store for him on arrival at Harare International Airport? When he landed the Zimbabwean authorities seized Majongwe's passport accusing him of being a sellout and peddling lies about the country.
Majongwe, who has lost count of the number of times he has been arrested by the Zimbabwean authorities, said he couldn't believe what happened to him. "I asked them: what is a sell out? How do I sell a commodity I do not control"?
To add insult to injury after getting his passport back from the Zimbabwean authorities, Majongwe was denied a visa to travel to the United Kingdom by the British Embassy in Harare.
In the song "Of Passports & Visas" on Majongwe's new music album called I Speak What I Like, the activist musician said he was trying to make sense of the Zimbabwe and British governments. They are opposed to one another but together they, "connive and agree" in denying him an opportunity to travel.
The title of Majongwe's new album is clear enough to scare some Zimbabwean musicians who have censored themselves from being the voice of the voiceless. Some say that musicians in Zimbabwe do not generally sing what they like because they want to make sure that they stay on the "right side" of the regime. However, he praised musicians like Leonard Zhakata who, despite the current political challenges, have not minced their words and continued to record songs that reflect the views of the people. Some of Zhakata's songs have allegedly been banned on state radio.
One would expect that the release of Majongwe's eighth album would see him entering the local music charts but for Majongwe, this is still a dream. His previous albums have not seen the light of day on the national airwaves.
"I will continue doing what I think is right and I will continue singing what I like at what ever cost, or price that has to be paid", Majongwe said on being asked what had been the inspiration in recording his new album. He added, "I was trying to send a message that I am not going to apologize for what I believe in. I am not going to be apologetic about my thoughts, about my opinions and experience."
In his song It's Not Easy Majongwe warns that the road to freedom won't be a walk in the park. The song Sekuseduze comments on the fact that it is always darkest before dawn. Majongwe said, "People must be reminded that no regime can have its hand on a boiling pot forever".
The Truth is a song that warns people who "promote violence, brutality and barbarism" that they will be accountable someday and everyone will know the truth.
Majongwe describes Thomas Mapfumo as being his greatest influence. He also gets inspiration from the self proclaimed South African 'people's poet' Mzwakhe Mbuli and the late legendary Nigerian musician Fela Anikulapo Kuti. In a show of admiration for Fela, Majongwe recorded a song called Fela on his debut album titled Which Way Africa.
Speaking about the challenges he faces Majongwe said many promoters have not been keen to work with him for fear of government reprisals. He added that music shops and flea markets are reluctant to sell his music because they fear that state agents will come and confiscate everything.
But the jovial Majongwe is optimistic that Zimbabwe will one day be free. Having recently returned from a visit to the United States, he described the trip as an "eye-opener. "I was shocked that people can go to the president's house and shout what they want," he said laughing.