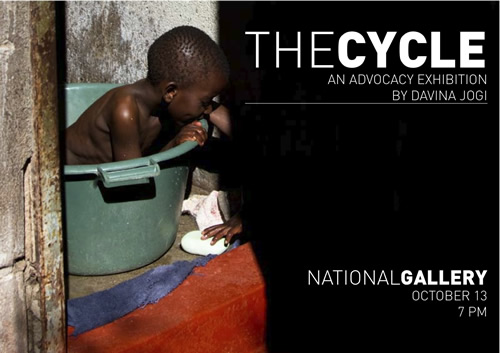 Exhibition runs from 13 October – 19 October 2012.
The Cycle, a photographic exhibition about water and sanitation in the city of Harare, by Davina Jogi.
Davina Jogi is a freelance photojournalist from Harare. She focuses on telling daily life stories about Zimbabwe that are often not covered by international media, and has worked with a variety of local and international newspapers, magazines and NGOs.
She was awarded the 2012 Media and Advocacy Grant from Market Photo Workshop for which she photographed a story about Harare's water and sanitation challenges, entitled The Cycle.
The Media and Advocacy Photography Mentorship
The Media and Advocacy Photography Mentorship is solely aimed at the development of photographers with an interest in documenting societal issues that might often go unacknowledged in the mainstream media.  Davina Jogi is the first recipient of the award and her mentor for the project was Jonathan Torgovnik.
About the Market Photo Workshop
The Market Photo Workshop is a Johannesburg-based school of photography, gallery and resource centre for practicing photographers. Since its establishment in 1989, the school has played an integral role in the training and growth of photographers from South Africa and further afield.
For more information
Davina Jogi: www.davinajogi.com