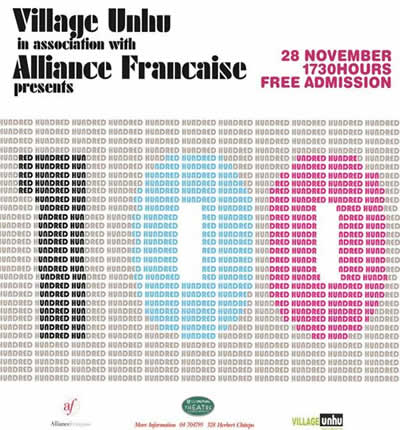 You are cordially invited to
"100 HUNDRED"
Exhibition Launch
at Alliance Française
Thursday, 28 November at 5.30pm
Old Mutual Theatre at Alliance Française, 328 Herbert Chitepo Ave, Harare
Village Unhu & Alliance francaise are again pleased to present another exhibition titled '100 hundred' of paintings, graphics and multi media sculptures.
'100 Hundred' simply meaning ten times ten, for the exhibition simply meaning a hundred works for a hundred each.
We are glad to feature works by, to only mention a few, Gareth Nyandoro, Wallen Mapondera, Shannon Murphy, Thandazani Dhlakama, James Jali, Moffat Takadiwa, Mattheus Nyaungwa, Misheck Masamvu and many others.