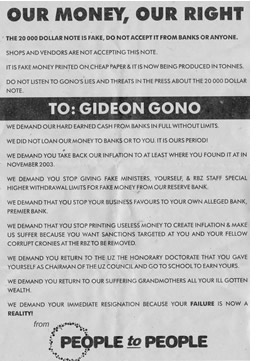 An underground movement that calls itself People to People distributed, or rather littered, Harare's streets with flyers over the weekend carrying a message rebuking the Reserve Bank Governor for printing substandard bank notes in the form of the new $20 000. Aside from detailing how the $20 000 note has no tight security features and is probably being replicated, the flyers also mention that some shops and vendors are not accepting this note as legal tender. The flyer also demands reasonable withdrawal limits and reasonable policies to curb inflation.
I started hearing complaints about the $20 000 note last week and indeed, it is of poor quality and appears to have been printed on something like bond paper. It also doesn't have raised font or the silver security strip and watermark that have been the usual security features. But until today it has been possible to transact with it. First it was the hwindis (conductors). They are no longer considering the $20 000 note as legal tender. Unfortunately for them a lot of us had that note and we'd gone such a distance that either dropping us all off or taking us all back to the taxi rank would have been a loss either way. The hwindi eventually capitulated on taking the notes muttering under his breath that as soon as he can he will deposit the money in a bank.
While it is commendable citizen activism the flyers may spark alarm and despondency. The flyers were strewn all over the city from taxi ranks to shopping centres such that those who initially hadn't closely analyzed the $20 000 note are all going to start shunning it. Now this is a disaster because that's what the banks are churning out and one cannot exactly consider the option of re-depositing because of the hassle getting it in the first place and there is no guarantee of getting 10s next time. In any case, who wants to deal with tellers who are always on go slow and probably orchestrate the formation of the long bank queues in order to work overtime to reap the benefits?
When bearer cheques were first introduced in 2003 people blasted them for their insulting poor quality and very existence but not to the extent of actually not recognizing them as legal tender. If the people lose faith in the national currency, it spells disaster. One of the fundamental principles of a good economy is that the people have confidence in it. Most Zimbabweans know the security features of the US dollar better than their own money. In fact, they can tell a fake from a real one and actually know which year that country printed new notes.
It is nauseating to think that some people can just play games with a country's whole economy and get away with it. What will it take for the man who sits at the helm of our central bank to admit failure and resign?
It really is a shame. The Shona version of the People to People flyer concludes by saying: Nderipi zita idzva reBhanga guru renyika? Rinonzi Zeroes Acre! Loosely translated: What is the new name for country's central bank? It is called the Zeroes Acre! Indeed.